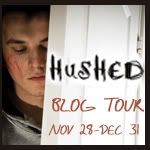 Kelley was born and raised in central California, where she still resides with her lovely wife, daughter, and an abundance of pets. (Although she does fantasize about moving across the globe to Ireland.) She has a fascination with bells, adores all things furry – be them squeaky, barky or meow-y – is a lover of video games, manga and anime, and likes to pretend she's a decent photographer. Her life goal is to find a real unicorn. Or maybe a mermaid.

Within young adult, she enjoys writing and reading a variety of genres from contemporary with a unique twist, psychological thrillers, paranormal/urban fantasy and horror. She loves stories where character development takes center stage.
*Bio taken from Kelley's Website
In case you missed it, my glowing
review of HUSHED
went up yesterday. Read on for Kelley's guest post!
The Girls I Knew
I've been asked if the characters in HUSHED are based off of someone I know. At first, my answer was "No." But the more and more I thought about it, the more I've realized that Vivian is, in fact, a manifestation of many girls I knew in high school.
I had a very close friend who met a lot of guys on the phone chat lines (which were all the rage at the time). They were older guys in their twenties, while we were 15 or 16. Every week, it seemed, this friend had a new guy she was
so in love with
. They stuck around long enough to sleep with her, and vanished, never to return a phone call again. After being friends with her for years, anytime she came to me to talk about her newest guy, I'd give a dry response of, "Have you learned his name yet?"
I spent years telling her she was worth more than sleazy guys wanting to use her.
I spent years telling her, "What do you think a twenty-something-year-old guy wants with someone our age? It's sure not love."
And, for years, when she came over in tears because yet another boy had broken her heart, I hugged her and told her everything would be all right.
Because what else could I do?
These kinds of girls are suffering from a severe lack of self-confidence, so eager to hear a guy say "I love you" that they'll believe it no matter how unrealistic it might be. I heard them be called 'sluts' and easy, but I knew better. (No one is immune from bullying, are they?)
It's frustrating to be on the outside, looking in. Seeing the answer right in front of you and being unable to get through. Unfortunately, I had a few other friends like this, too. I never knew what to do for any of them except give my honesty, which resulted in many fights and hurtful comments flung in my direction: "You're frigid," "You don't understand," "If you had a boyfriend, you'd get it."
I grew apart from those girls. I wish I'd known how to help them, but maybe the power had to come from them and not from an outside source.
The same rings true with Vivian who was, perhaps, my frustration and sadness that I could never fix the things broken in my friends. Vivian could've been more and she wasn't...but it wasn't the fault of anyone but herself.
If you're one of those girls, or if you know one (many of us seem to), remind yourself—or them—that they're worth more.
Description (Taken from Goodreads):
He's saved her. He's loved her. He's killed for her.

Eighteen-year-old Archer couldn't protect his best friend, Vivian, from what happened when they were kids, so he's never stopped trying to protect her from everything else. It doesn't matter that Vivian only uses him when hopping from one toxic relationship to another—Archer is always there, waiting to be noticed.

Then along comes Evan, the only person who's ever cared about Archer without a single string attached. The harder he falls for Evan, the more Archer sees Vivian for the manipulative hot-mess she really is.

But Viv has her hooks in deep, and when she finds out about the murders Archer's committed and his relationship with Evan, she threatens to turn him in if she doesn't get what she wants… And what she wants is Evan's death, and for Archer to forfeit his last chance at redemption.





Praise for Hushed:

'Kelley York delivers in this impressive debut. I was at the edge of my seat waiting to see what would happen next! Bottom line, this was unputdownable!!!' --- YA Fantasy Guide ---

'How exciting that we live in a time when gay teen protagonists can be just as screwed up as straight ones -- and their stories just as creepy!' --- Brent Hartinger, award-winning author of Geography Club and Shadow Walkers ---