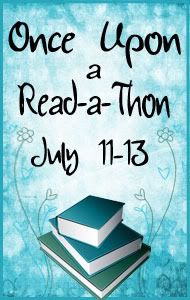 We have reached the final day of the Once Upon a Read-a-thon! I expect everyone to be furiously reading through their pages, attempting to cram as many books as possible into what's left of the read-a-thon time. I know I will be, especially since my goal was four books and I've only gotten through three.

Now, for the challenge!
We all enjoy a good love story (don't deny it!), but sometimes the two (or three or four) characters involved in a love story struggle so much, that I just want to say, 'hey, _____ would be so much better for you!' So in the spirit of matchmaking, I'm setting you with the task of playing cupid and shooting your arrows at two characters from different books in, what I'm calling, LET'S PLAY MATCHMAKER!
For example:
Ethan from the Caster Chronicles (Beautiful Creatures & Beautiful Darkness) by Kami Garcia & Margaret Stohl
+
Briony from Chime by Franny Billingsley.
Why? You might ask. Well, Ethan seems to like a girl who needs a little fixing up and Briony definitely could use a little repair, so . . . PERFECT MATCH.
It's not an exact science, but it works in my head. So make a post about what two characters work in your head and why, then link it below for your chance to win either your choice of three of the books pictured below (US/Canada)
or any book $15 and under from The Book Depository (international - if they ship to you)
Rules:
You MUST be participating in the Once Upon a Read-a-Thon
Normal
contest policy
applies
Open to US/Canada if you pick from the pile or internationally if it's from The Book Depository
Giveaway closes at 11:59 PM EST on July 13th
*If there's no way to contact you on your blog, make sure you leave a comment below!