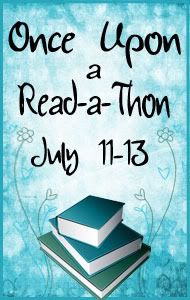 The Once Upon a Read-a-Thon, hosted by
Candace's Book Blog
,
Pure Imagination
, and
Reading Angel
has come to a close.
I had so much fun with this one, getting through 5 books when my goal was 4. Not only that, but I enjoyed each book I read, and two of them are definitely going in my favorites of the year pile, with
The Near Witch
sitting pretty close to the top.
Day 1:
Books Read:
Exposed
by Kimberly Marcus (255 pages) + wrote review
And Then Things Fall Apart
by Arlaina Tibensky (227 pages) + wrote review
Mini Challenges:
Started the challenge at The Musings of ALMYBNENR, but after nearly 1 hour and still not finished, chose to put it off for a bit. Just went back and the rest came to me. Yay!
Day 2:
Books Read:
Moonglass by Jessi Kirby (232 pages) + wrote review
Mini Challenges:
YA Bliss
asked us to list our top 3 favorite love triangles. As far as love triangles go, I don't think I can pick a favorite because I tend to be wholeheartedly on one side or the other (and I honestly can't even remember ones that I thought were extremely well done), but here's what I came up with by scanning my shelves:
Nick, Zara, and Astley from Carrie Jones' Need series - See, I really liked Nick in Need. He was a little gruff, a little pushy, but sexy. Then Astley showed up and I was all, 'Nick who?' But I can still see the Nick appeal. That right there makes this a good love triangle.
Logan, Aura, and Zachary (and throwing in Dylan too) from Jeri Smith-Ready's Shade series - One's a ghost, one can see ghosts, and the other is Scottish. Obviously that can be a tough decision. I also tossed Dylan in there because I like him, even though his thing with Aura is all lusty, guilty feelings.
Shay, Calla, and Ren from Andrea Cremer's Nightshade - There is no wavering for me on this one, I'm Team Ren! But I can see Shay's appeal. I can really, really see Shay's appeal. So much so that I can almost be okay with him butting his head in and ruining sexytimes for Ren. Almost.
Honorable mentions:
Warner, Juliette, and Adam from Shatter Me by Tahereh Mafi - I'm not sure one can even say this is any sort of love triangle. At all. But I LOVE WARNER. He's all bad, but I can't help but want something more there, so this one had to at least make my honorable mentions.
Az, Eden, and Adam from A Touch Mortal by Leah Clifford - This isn't exactly a love triangle because there's only one person who can walk away with the girl, but just wishful thinking on my part. And I'm sending 'love Adam' vibes towards Leah.
Rafe, Maya, and Daniel from The Gathering by Kelley Armstrong - It's not quite a love triangle yet, but it's totally heading in that direction. And, at this point, I have no clue who I'd go for.
Day 3:
Books Read:
Family
by Micol Ostow (376 pages) + wrote review
The Near Witch
by Victoria Schwab (282 pages)
Mini-Challenges:
Books from Bleh to Basically Amazing
is asking us for two book recommendations, one just because and one as our favorite read-a-thon book. My two choices are:
Chime by Franny Billingsley because it is my most favorite book of the year so far. The language is beautiful and it has this lilting, folklorish quality about it. Billingsley's way with words left me yearning for more. It's incredible.
The Near Witch by Victoria Schwab, which, oddly enough, is a bit like Chime. The Near Witch also has that folklore tinge to it, but is kind of ethereal too. It's like a bedtime story come to life; the ones where bad things happen to children that misbehave. I'm so happy I read it during the read-a-thon though because I could sit for three hours straight, knowing I wouldn't need to put the book down for anything. And that's something you'll want to do. Read it straight through, in one sitting, I mean. Because it hurts to think of putting it down when the story just floats on to you.
Pages Read:
Day 1: 482 pages
Day 2: 232 pages
Day 3: 658 pages
Cumulative: 1372 pages
Reading Time:
Day 1: 250 minutes
Day 2: 185 minutes
Day 3: 310 minutes
Cumulative: 745 minutes