October is the month when I first started blogging and October 5th is the day of my first real post. That means...CELEBRATION.
To kick off the celebration, I have a button to share. You can get it the code for the button on my right sidebar. And if you put it on your sidebar you'll get +5 entries into all the giveaways for the month.
The button code had not been working previously, but it should be all set now.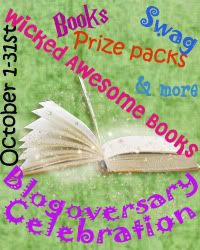 I'll update this post regularly, as well as have it linked at the top of my posts, so giveaways are easy to locate and enter.
Win The Maze Runner by James Dashner - Ends 10/12
Win Beautiful Creatures by Kami Garcia & Margaret Stohl - Ends 10/22
Win an Alyson Noel Prize Pack - Ends 10/25
Win a $45 CSN Gift Certificate - Ends 10/31
Win a stamped copy of Mockingjay by Suzanne Collins - Ends 11/1
Win a Contemporary YA Humor Prize Pack - Ends 11/2
Paranormal Prize Pack - Ends 11/4
Win a Signed Copy of Speak by Laurie Halse Anderson (2 Winners) - Ends 11/12
THANKS FOR CELEBRATING WITH ME =)