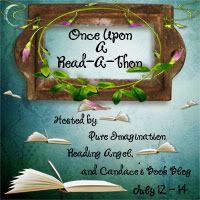 Here is the list of books I've read:
The Horse and His Boy (Chronicles of Narnia, #3)
Prince Caspian (Chronicles of Narnia, #4)
The Voyage of the Dawn Treader (Chronicles of Narnia, #5)
(All by C.S. Lewis)
The Death and Life of Charlie St. Cloud by Ben Sherwood
I also read The Sky is Everywhere by Jandy Nelson, but I started that around 2:30AM today and finished it (after a 4.5 hour rest) around 11 AM - All of this is after the read-a-thon ended, but I think I was riding my read-a-thon high and it pushed me to read even more. Also, the book is amazing and nearly impossible to put down.
Here are the mini challenges I was able to complete:
I read 1,002 pages (1,279 if you count
The Sky is Everywhere
)
I have no idea how many hours I read, but it was a good amount
The read-a-thon was a lot of fun and I'd to thank the hosts,
Pure Imagination
,
Candace's Book Blog
, and
Reading Angel
. Without them it would not have been possible. I hope to do it again soon.